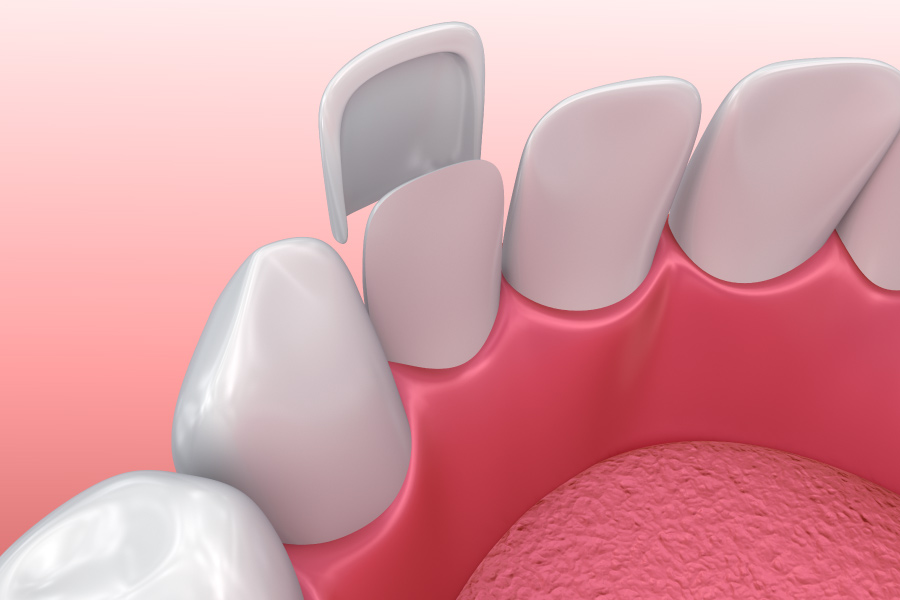 Have you ever wanted to achieve a perfectly symmetrical, straight white smile? Porcelain veneers may a good fit for you! Traditional veneers are thin pieces of porcelain that are customized in terms of size, shape, and color to mimic the appearance of beautiful, natural teeth.
In this blog post, we explain why veneers are considered permanent.
Alteration of Your Tooth Enamel
Before a veneer can be applied over a tooth, a small amount of enamel must be removed. This is so that the veneers have enough room to fit snugly over your teeth and closely together without looking bulky.
Tooth enamel is the hard outer layer of the tooth that protects it from tooth decay and damage. Enamel can be strengthened by receiving fluoride treatments, using a fluoridated toothpaste, and consuming plenty of calcium, but enamel cannot grow back once it is removed. Since veneers require some enamel removal, they are considered a permanent treatment. Any tooth that is prepped for a veneer must be covered by a dental restoration of some kind from that point on. Otherwise, it will be extremely susceptible to decay and infection.
Cavity Prevention with Veneers
Keep in mind that you must still care for your underlying teeth with veneers! You must still brush your teeth twice a day for two minutes each time, floss every day, drink plenty of water, consume a balanced diet, and visit us for routine cleanings and checkups.
Your Veneers Consultation
If you're interested fixing discolored, misshapen, or damaged teeth, schedule a cosmetic consultation at Grafton Dental Care so we can help you find the right cosmetic treatment!
Our team always does our best to ensure that our patients understand the veneers process and maintenance requirements before proceeding. It's important to weigh your options when deciding which cosmetic treatment is right for your smile. Professional teeth whitening, for example, is a minimally invasive treatment option that can enhance the overall appearance of the teeth quickly and easily. However, if you know exactly how you want your smile to look, and you know that veneers are the best way to achieve your smile goals, our team would be more than happy to help.