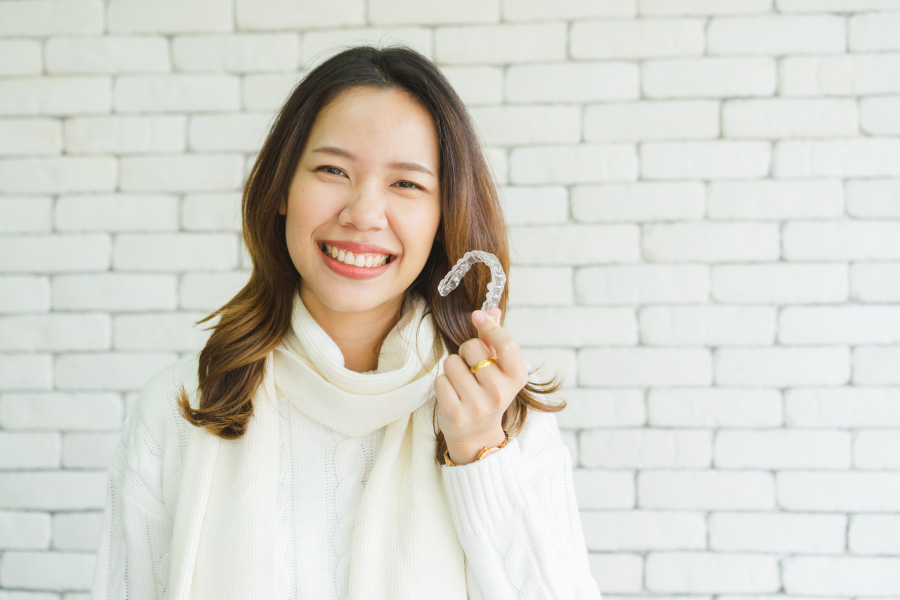 Invisalign® offers patients a discreet way to fix the position of their teeth. These clear aligners are barely noticeable to other people so you can remain confident in your smile the whole treatment! In this blog post, we explore the pros and cons of Invisalign.
The Pros of Invisalign
The biggest pro of Invisalign is hinted at in its name. Invisalign treatment involves wearing nearly invisible trays made of inconspicuous clear plastic.
Additionally, these clear trays are comfortable to wear and removable. The smooth non-irritating plastic is gentle on the mouth. And since they are removable, brushing and flossing your teeth is simplified compared to traditional braces.
The Cons of Invisalign
You need to wear your trays for at least 20-22 hours a day. Basically, that means you should only be taking them out to brush your teeth or to eat. It can be tempting for some people to leave them out for longer, but if you do, you risk lengthening your treatment time. Because the trays can be removed, there is always a risk of losing or damaging them.
The clear plastic can warp if rinsed in hot water and become discolored if you don't properly brush your teeth and keep the aligners clean.
Making a Decision
No matter how much research you do online, the best way to figure out if Invisalign is right for you is to consult a dental professional. Since they'll be able to take a look at your misalignment and discuss your smile goals, they'll be able to give you an accurate estimation of whether Invisalign is the right choice for straightening your smile.
At Grafton Dental Care, we provide Invisalign clear aligners as part of our cosmetic dental services. If you have any questions about the procedure, our experienced team is more than happy to discuss with you further. Contact us today to schedule a consultation!
Contact Us